Morris and Rapper Dancing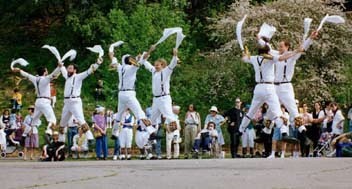 Photo by Debbie Lewis
I'm proud to have founded the Commonwealth Morris Men, an inspired bunch of guys who (in their day) could jump pretty high all at the same time. Other fine Morris and rapper teams I've danced with include New Haven Morris and Sword, Greenwich Guard, and Minnesota Traditional Morris.
In my years with Commonwealth we focused on evolving the Minneapolis and Withington traditions, and created many new dances. Most of them were filmed by Tony Barrand at the Marlboro Morris Ale, and are collected here as Commonwealth Videos.
With my friends on the New Haven team I had the pleasure of creating a new "tradition" of stick dances called Elm City, and writing an article about it for the American Morris newsletter.
I've also enjoyed many years of dancing and teaching rapper, and have posted a collection of dances and figures.